Selecting the Right Tree Moving Attachments: Factors to Consider
Selecting the Right Tree Moving Attachments: Factors to Consider
When it comes to successful tree relocation projects, choosing the right tree-moving attachments is crucial. It's not just about getting the job done; it's about ensuring the health and survival of the trees you're moving. 
With the right equipment, you can make the process smoother, faster, and more efficient. But with so many available options, how do you know which tree-moving attachments are right for your project? Let's look at some important factors to consider when selecting the right tree-moving attachments.
Making the Right Choice for Your Business
Choosing a tree transplanter involves considering several factors. You need to consider the size of the trees you'll be moving, the condition of the soil, and the scope of your project.
Soil condition should be a starting point when selecting a tree spade attachment. If you're moving larger trees, you might need a bigger skid steer to accommodate the larger spade.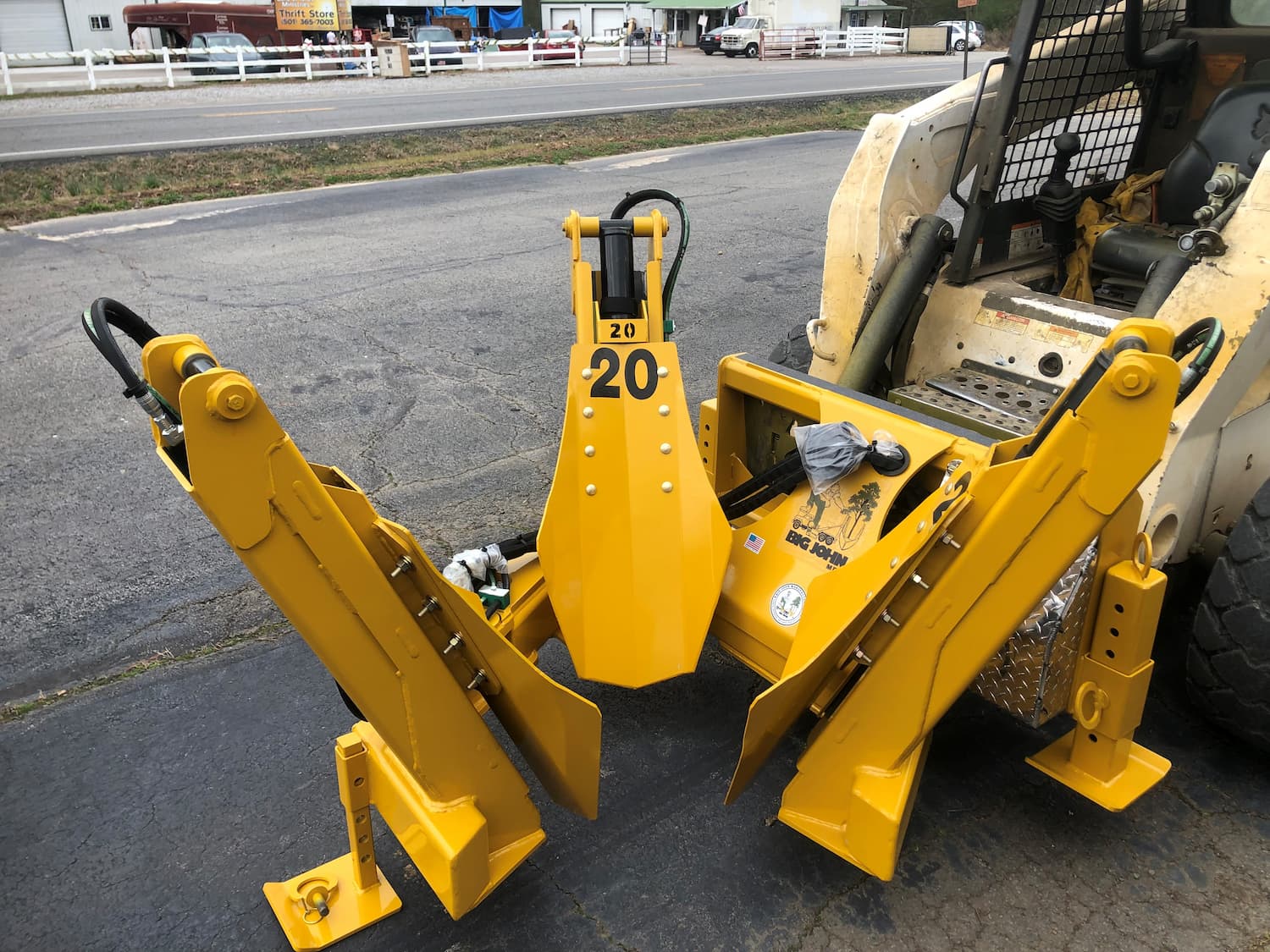 Exploring Different Tree Moving Attachments
Many types of tree-moving attachments are available, each designed for specific tasks and conditions. Let's take a look at some of them:
Tractor Attachments
Tractor attachments are ideal for large-scale projects. They provide the power and stability required for moving large trees or handling tough terrains. Any 20-60″ spade can be fitted onto a tractor if the customer prefers, using a specialized three-point hitch model specifically for tractors. 
Skid Steer Attachments
A skid steer tree spade offers flexibility and precision. It's perfect for projects that require careful maneuvering, such as navigating tight spaces or working on uneven grounds. Moreover, they're easily detachable, allowing you to use your skid steer loader for other tasks when not transplanting trees.
Limb Management
When it comes to tree maintenance, limb management attachments are indispensable. They minimize cost of tying trees with easy to mount skid steers that ties up trees in minutes
Your Success Is Our Priority
As a business in the landscaping and construction industry, you want to ensure every tree relocation project is executed flawlessly. However, with so many factors to consider and options, finding the perfect tree spade attachment can feel like navigating a maze. You don't deserve to be overwhelmed by the complexity of choosing the right tree-moving attachments. 
Don't compromise on the quality or efficiency of your work due to unsuitable equipment. At Big John Manufacturing, we know how important high-quality equipment is for your business. We're here to help you make an informed choice that best suits your needs and ensures the success of your landscaping projects.